ABOUT US
When your career was being an industrial engineer and you retire your brain doesn't turn off. You continue to solve problems. Particularly the ones that are really important to me.
OUR STORY
Hi my name is Eric Burka. I invented the Toy Dolly to solve my problem of not enough space in our garage to hold all my toys. I wanted a trailer for my motorcycle that didn't take up a whole garage bay; one that I could park in front of my truck and still close the garage door.
Coming up with a solution became my retirement passion. I built several different prototype designs to test them for safety and stability, not just on the road but for loading and unloading. After three iterations and designing some really key parts I'm proud to introduce my Toy Dolly for motorcycles…
SHOP DOLLIES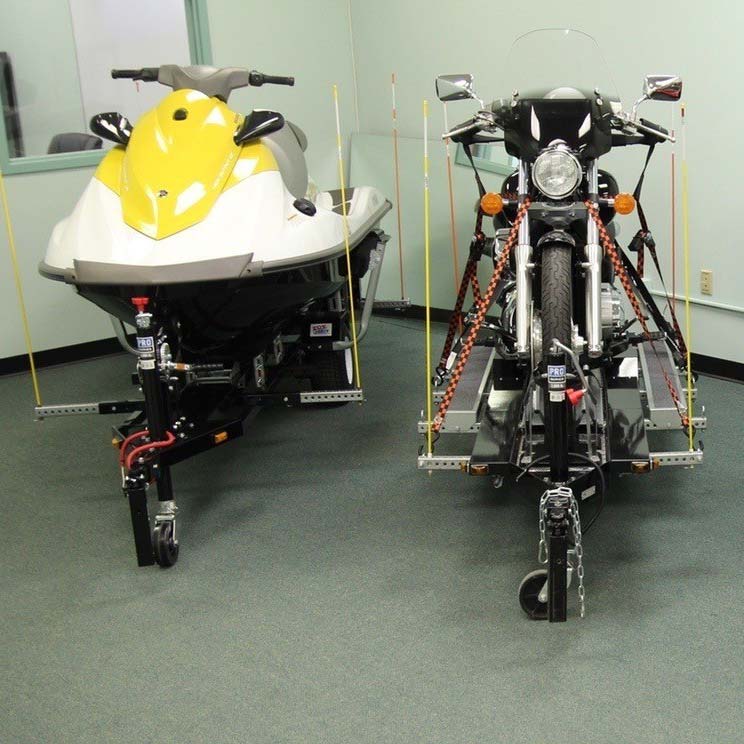 EXPANDING THE VISION
But I had an ATV and Personal Watercraft (PWC) too—remember I'm retired. So I didn't stop there. I thought; why not use the same chassis and just make different assemblies to handle whatever I wanted to haul. That took some doing, but I did it inventing interchangeable top assembly systems. Then I realized I wanted to take more than one toy with me on vacation so I had to design a parallel towing harness. That was a monumental feet, to engineer the "shake" and "wobble" out so it moved down the road like you wouldn't know it was behind you.
My Son-in-law met me on vacation at the beach last summer and saw me arrive hauling both my bike and PWC. He wanted one two and it turns out other friends that saw did also. So Toy Dolly was born in my St Louis garage in 2016. We moved, out of my garage, into our own building now and I guess I'm done with early retirement.
SHOP PARALLEL TOWING
BUYING YOUR OWN TOY DOLLY
So if you want a fully warranted Toy Dolly to get the advantages of a small footprint and stability with the same independent suspension and ability to parallel tow, grab one of these and save some bucks!
Don't miss out on taking your toys with you.
Give us a call.
GET IN TOUCH