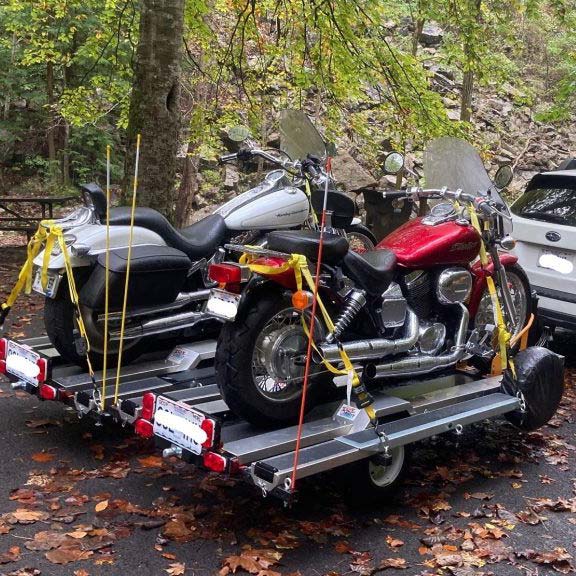 A BETTER WAY TO MOVE YOUR TOYS
Introducing Toy Dolly, the ultimate solution for effortless towing. With its sleek and compact design paired with top-quality manufacturing, Toy Dolly redefines convenience, making it the better way to move your cherished playthings.
SHOP
TOP RANKED SPORTS TRAILERS
Hi my name is Eric Burka. I invented the Toy Dolly to solve my problem of not enough space in our garage to hold all my toys. I wanted a trailer for my motorcycle that didn't take up a whole garage bay; one that I could park in front of my truck and still close the garage door.
And so, Toy Dolly was born.
MEET THE TOY DOLLY
COMPACT DESIGN

At Toy Dolly, we've reimagined the towing experience with a commitment to efficiency and space-saving innovation. Our compact design ensures that you can transport your motorcycles and toys without the hassle of bulky, cumbersome equipment. With Toy Dolly, maneuvering through tight spaces and storing your towing solution has never been easier, making your adventures more convenient than ever before.
PARALLEL TOWING

Toy Dolly stands out by offering the unique capability of parallel towing, allowing you to tow two vehicles side by side effortlessly. Whether you're transporting multiple motorcycles or a combination of toys, our innovative parallel towing feature ensures you can take more of your favorites along for the ride. This versatility sets Toy Dolly apart as the go-to solution for those who crave adventure and want to maximize their towing capacity.
TOW ALL YOUR TOYS
Introducing our groundbreaking Parallel Towing System, an innovation that revolutionizes how you move your toys. With the ability to tow two vehicles side by side, Toy Dolly's Parallel Towing System offers unrivaled convenience and flexibility for all your adventures.
SHOP PARALLEL